Men will almost always need to undergo a prostate biopsy in order to establish the diagnosis of prostate cancer.
This involves taking several cores of prostate tissue using an ultrasound probe placed in the rectum, and is usually done under local anaesthetic. The biopsy will give information such as the grade of the tumour (how aggressive the cancer looks), which is called the Gleason score. Further tests may then need to be done to determine the stage of the disease, and these might include a magnetic resonance imaging (MRI) scan or bone scan.
MRI
An MRI (magnetic resonance imaging) scan uses strong magnetic fields and radio waves to produce a detailed image of the inside of the body. An MRI scan is often used in patients with prostate cancer, to see whether the cancer has spread into the tissues around the prostate gland or into the lymph nodes near the prostate.
In Cambridge we have access to the latest high quality multi-parametric 3 tesla MRI which gives the best images.  Our radiologists too have expertise in interpretation of these investigations.
During the test you will be asked to lie very still on a couch inside a metal cylinder. It can be slightly uncomfortable and some people feel a bit claustrophobic during the scan. It is also very noisy. You will be given earplugs or headphones to wear.
It is not possible for you to have an MRI scan if you have any metal in your body, such as a pacemaker, hip replacement, or certain types of surgical clips.
The scan is painless and can take about 30 minutes. You will probably be able to go home as soon as it is over. The following is a picture of an MRI showing the cancer, which was then removed.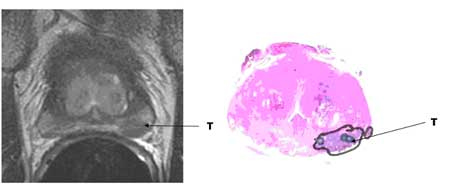 Template biopsies
Members of the team in Cambridge have developed techniques to link images from the MRI to an ultrasound scanner (image registration).  This means for those men who are considering active surveillance or where carefully targeted additional biopsies are required, we are able to offer multiple biopsies under a short general anaesthetic using a template to better characterise the cancer.
Bone scan
A bone scan is a technique to create images of bones on a computer screen or on film. A small amount of radioactive material is injected into a vein (blood vessel) in the arm and travels through the bloodstream; it collects in the bones and is detected by a scanner.
After the injection you will have to wait for up to three hours before the scan can be taken, so it is a good idea to take a book or magazine with you.
The level of radioactivity that is used is very small and does not cause any harm. Further tests, such as a plain x-ray of any abnormal area seen, may be necessary.